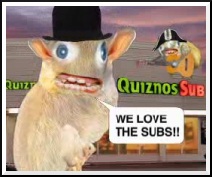 I miss the Quizno's singing rats. I know. It was one of the most bizarre advertising campaigns ever, but I'm still singing those songs whenever I see a Quizno's. Oh, I had a Quizno's sub for lunch, btw.
Yesterday was "Money Making Monday" with Lenny Dykstra on Jim Cramer's Realmoney radio show. He had to field a few questions on how those deep-in-the-money calls on NBR are doing. (Check an NBR chart to help you find an answer).
"24" was on last night, while we in Sacramento were facing some rain and thunderstorms. So my cable company was showing their Emergency Broadcast System (EBS) flash flood alerts. While the alerts are supposed to be centralized on one channel, they mistakenly blanketed ALL channels with the warning. And they kept trying to fix it, but the warning kept popping up. The first 30 minutes of "24" was extremely frustrating to watch.
"They have a pepper bar."
"You're a rat, for goodness sakes. A rat can't be the next American Idol. Frankly, it doesn't really matter how well you sing or how much of an entertainer you are. There are other people in this competition who are just plain better than you are. To be honest, I've seen this kind of performance from rats on cruise ships before." (SLUG! From Paula.)
I had to record The Donald's The Apprentice last night. I opted for "24." I've already found out what happens, but I'm going to have to watch it tonight. Well, whatever the EBS didn't mess up anyways. At least I can fast forward through that stuff...
Tonight? The Amazing Race debuts! Of course, it'll be up against American Idol. That means I'll have to fire up the DVR again. Probably for The Amazing Race.
Market thoughts... Google hammered the market with a warning. Once that happened, the market tanked and then flatlined. There were also some economic numbers out that showed some decline in consumer confidence. That indicator kind of blows around like the wind, and I don't put much stock into it. Housing sales continued to slow, but I think we already knew that was coming. I wonder if these are the sort of numbers Fed Dude Ben Bernanke will be looking at when the Fed makes their next decision on interest rates? I'd think the market would be happier if the Fed was going to stop with the hikes...